Image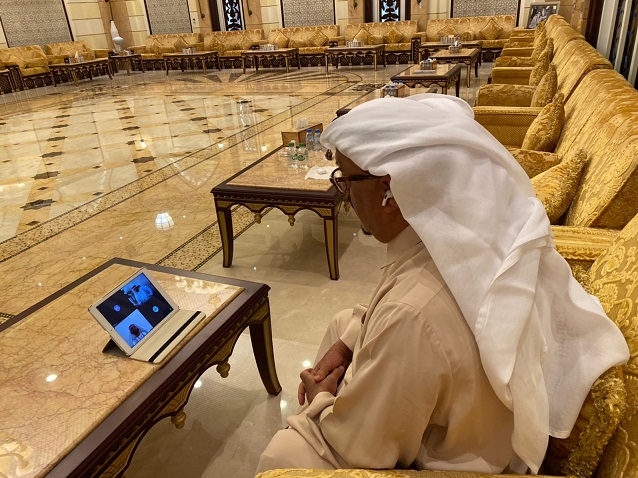 His Excellency Lieutenant General Dhahi Khalfan Tamim, Deputy Chairman of Police and General Security in Dubai and Chairman of the Board of Governors of Hamdan Bin Mohammed Smart University (HBMSU) chaired the second regular meeting of the academic year 2019-2020. He praised the achievements of HBMSU in supporting distance learning initiative in the UAE and ensuring its success. The Board of Governors hailed the University's highly productive cooperation with the UAE Ministry of Education, which resulted in the launch of two free online training courses titled 'Be an Online Tutor in 24 Hours' and 'Design an Online Course in 24 Hours' at the global level, attracting participation of 100,000 academic professionals from more than 70 countries. The two free courses are being offered in five languages such as Arabic, English, French, Spanish and Russian, in partnership with the UNESCO Institute for Information Technology in Education, complementing the central role of the UAE in bringing about positive and fundamental change in the global educational system, in line with the changing needs of the 21st century.
The BOG meeting also witnessed the unveiling of plans to conduct joint applied research with leading international educational institutions and prestigious universities from around the world in order to address potential challenges and societal obstacles that may emerge in the future, in line with the national efforts towards advancing sustainable and comprehensive development. The agenda also included a discussion of developments related to the launch of the 'One Million Arab Entrepreneurs' initiative and the amendment of the University's policies according to the developed policies. The most important of these are 'New Standards for Academic Accreditation 2019' and "Department of Educational Supervision for Higher Education Institutions.' 
Furthermore, attendees of the meeting affirmed the Board's commitment to spreading HBMSU's pioneering experience regionally and globally, in line with the directives of His Highness Sheikh Hamdan bin Mohammed bin Rashid Al Maktoum, Crown Prince of Dubai and President of the University, to strengthen the foundations of smart education and distance learning as one of the pillars in honing younger generations, who are considered the real wealth of the nation and therefore are best investments for the future.